The first families of the Rock Hawk area received land grants from 1805 when Putnam County was part of the recently established Baldwin County.
The most well known of the early settlers were the Cooper, Fielder, and Stinson families.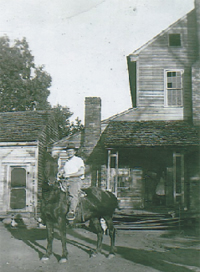 Kinchen Little, who became the most well known of all, moved to Putnam County sometime before the War of 1812. He rented, and then purchased, property from the Stinsons. He married Christine Stinson in 1816 and began to purchase additional slaves and land in the eastern part of the county along the Oconee River. By 1862, Little owned almost 4,000 acres of land and 101 slaves in Putnam County. His total holding approached 5,000 acres with land in Hancock County.
Even before his death in 1865, Kinchen Little began to partition his plantation and distribute the land among his wife and sons. The parcel of the original plantation including Rock Hawk became the share of Little's widow. The last of the Littles to hold any of the original holdings of Kinchen Little was Forester Little, who was ultimately forced to mortgage and then sell the home place. By the 1930s the land was owned by the Holder family.
The plantation as it existed during the later years of Kinchen Little's life was among the largest and most productive in Putnam County. His holdings in livestock were abundant, including dozens of horses, mules, and milk cows, together with over one hundred beef cattle and about 300 swine.