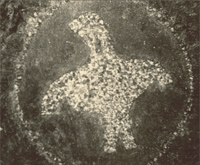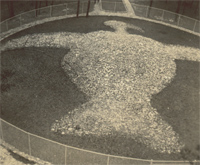 It is not known who built the Rock Eagle or Rock Hawk Effigies, nor exactly when or why. The effigies were located on land occupied by Native Americans before early settlers took ownership via treaties and land grants shortly after 1800.
In 1805 Robert White acquired the property where the Rock Hawk Effigy is located through a land lottery but sold it in 1818 to Kinchen Little, who would become one of Putnam County's most prominent citizens. (Rock Hawk was often known as the "Sparta Road Eagle" or "Little Eagle," which generally referred to the Little family, but many interpreted this to mean an eagle smaller than Rock Eagle.)
The Rock Eagle Effigy is located at the University of Georgia 4-H Center on US Highway 441 in Putnam County. Dr. A.R. Kelly of the University of Georgia, after at least a couple of years of interest in the local mounds, became involved with the WPA (Works Progress Administration) in 1936 to conduct numerous excavations and surveys at Rock Eagle. They recovered small amounts of aboriginal pottery, chipped stone, and daub, which were not considered significant and suggested to many archaeologists and others that the В"cleanВ" mound was used for religious purposes. During that time, the effigy was reconstructed to the 1877 measurements of C.C. Jones. By 1938 the fence, walkway, and tower were added to finish off the preservation of the mound, as it appears today.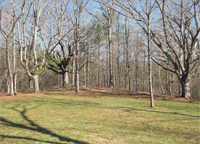 At the time that Dr. A. R. Kelly of the University of Georgia and the WPA (Works Progress Administration) were excavating at the Rock Eagle Effigy, a letter dated March 23, 1936 was sent from George A. Turner of the Rural Resettlement Administration to Richard W. Smith, Secretary Treasurer of the Society of Georgia Archaeology concerning a third bird effigy. The letter referred to a map of Putnam County prepared by Turner, which showed the locations of important archaeological sites. In addition to Rock Eagle ("Scott Eagle Mound") and Rock Hawk ("Sparta Road Eagle") he identified the following mound, which became known as the Pressley (Presley) Mound: "No.3, Northwest of Eatonton on the Eatonton-Godfrey road is known as the old Pressley place. There is, at this time a large pile of rock, and someone stated that this pile of rock was once in the same shape of the Scott Eagle Mound but was destroyed by moving part of the rock. Indian relics have been found near this location.